Max starts school this year. I may have mentioned it on this blog before but our school district has an early education class that buses the 4 year olds to the school for a half day of class. That means 5 days a week my son will be in class for three and a half hours and then just over an hour of travel between going to and from school on the bus.
I've been anxiously looking forward to this day. I mean, your kid getting in to school, ready to learn, making life long friends, gaining some independence? Awesome!
And then we go to his open house. And suddenly it's not so exciting. You guys? I'm losing my first baby. I realize he's already attended preschool. I realize he isn't really a baby anymore. And to be honest, I'm still looking forward to those afternoons with only one kid around. But that doesn't mean I'm not going to miss him like crazy. That I'll be that mother playing with her daughter by her driveway an hour before my son is even supposed to be dropped off? Pretty much a given.
This is going to be an interesting adjustment. And I'm really glad our district offers these half day introductions first instead of jumping into the full day kindergarten. I know Max would do fine but I think I'll enjoy gradually moving into this new stage of our lives.
As for Max? Well he's pretty sure he's excited about school.
He loved all the toys and games we saw in his classroom. That neat little chair made perfectly to his size? Now that was awesome! And the fake fish tank that you turned on? He was entranced.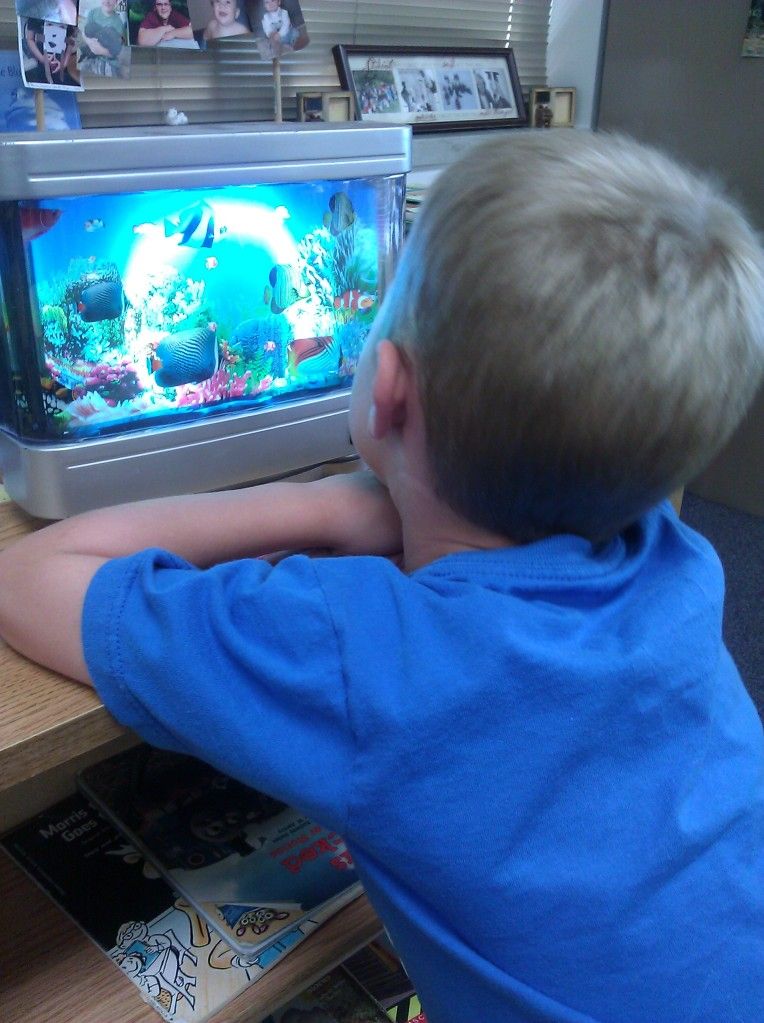 But while we were walking to and from the school he wasn't as thrilled. He talked about how much he didn't like school and how he wasn't going to have any fun. I'm sure some of it is nerves, and another part is just Max. He was this same way when we'd go to preschool and while I knew he was having a fun time he still insisted he was not or would not have fun.
So for now we wait. We talk about riding the bus, all the friends he already knows and all the ones he's going to meet. He loves to ask us what our favorite parts were in school and we continue to encourage his curiosity. In less than a week my boy will be loading onto a school bus for what will be the first time of many first days of school. I can only hope that I've done my job right to prepare him to go, and that I'll be able to hide my tears, both of joy and sorrow.